Drive Traffic To Your Roofing Contractor Business With Yard Signs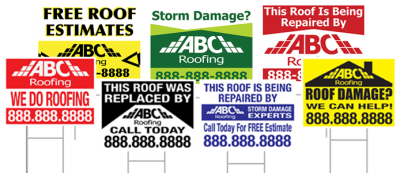 Yard signs are great lead generators. The key is to get a lot of them in the right places. Effectively marketing with yard signs requires consistent variety. This means spread out your yard signs in more than just one or two places, being careful not to scatter them so much that they don't register with your viewers. Check out these primary locations for your Yard Signs:
1. In The Front Yard Of A Current Job Site. It's a no-brainer, but a lot of contractors forget to do this.
2. Around The Corner: Make sure customers know you're in the area by placing your signs nearby.
3. Near The Target Market: Determine your target market and canvass these areas.
4. Near Competitors: Be bold and let their customers know what you've got to offer. Don't be surprised if your competition
does the same.
5. Large Events: Expose your business to a wide audience at large town events, fairs, concerts, sporting events, etc.
Make sure you have a great follow up system to really bring it home.
Marketing Your Roofing Business With Yard Signs:
1. The best choice of material is sturdy corrugated plastic – durable and inexpensive.
2. Keep the design simple and legible – a slogan, company name and phone number. Remember that most people are driving by when they see your signs and have to take in your information in a split second.
3. Yard signs are an inexpensive way to brand your business – stay consistent with your designs and consumers will identify your business on site.
4. Yard signs are long lasting, reusable, and a one time business expense with proper care.
5. Easy to remove and store when not in use.
And lastly, make sure you choose the right sized sign. You may need an over-sized sign depending on how far away you want to impact the reader. A rule of thumb is every 1 inch of letter height provides 10 feet of readability with the best impact. For example, 3 inch tall letters will have the best impact within 30 feet. Keeping a variety of sizes is good practice.
Need Yard Signs? Simply Click Here to access the Roofing Contractor Marketing Center