Need Location Ideas For Promotional Events? We've got 22!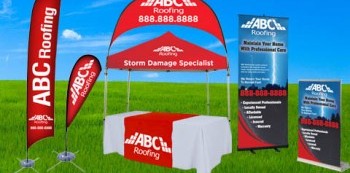 Event marketing works for getting roofing leads because you talk directly to the consumer. Summer is the perfect time to start planning and attending lots of events to market your roofing service. We have a whole list of quick tips and ideas on where to host your next big event!

You are missing out if you are not taking advantage of the many events where you can target roofing leads from large crowds. Start preparing early and map out what prospective events are in your local community, as well as finding large scale events to promote. We can help you get started with the list of event ideas below! Wherever you attend an event, make sure you stand out as a professional and be prepared with all the necessary event materials to draw in the crowd.

Events and ideas:
1. Business Events – Attend chamber of commerce events, business expos, and networking events. Set up your 17′ tall blade flags to make sure you are seen from a distance over a crowd. These events will give you plenty of time to have a conversation with prospective customers.
2. Hardware Workshops/Demonstrations – Visit events where people are learning about new home improvements, and visit your local hardware store to visit with guests. Have your yard signs out to let customers know you are present and available to talk to.
3. State And County Fairs – These always include an array of booths and shows. Your booth is going to get lost among the crowd unless you really stand out. Make sure your set up looks professional against the rest with table throws and table runners. Team up with a Radio station at the fair and drive people to your booth by broadcasting where you are located at the event.
4. Local or National Festivals – This can include holiday events: Thanksgiving Day Parade, New Years Events, 4th Of July celebrations, Octoberfest and much more. If you have the opportunity, set up by the popular Beer Garden and offer free food and prizes.
5. Know Your Local Organizations – Lions Clubs, YMCA, Law Enforcement, etc. Make a donation to attend their main events. This is a great opportunity to target a certain demographic and hand out memorable items like postcards that you can customize to the event with a sticker on the back!
6. Community Gatherings – Live and Silent Auctions, Community Yard Sales and home town annual celebrations/parades. Distribute flyers and set up yard signs so prospects know your involved with the event.
7. Food – Cook-offs, wine tastings or town events like 'Wingfest'. Set up your table with an over the top banner display that clamps onto table tops with thumbscrews. No tools required for a quick set up at every busy event!
8. Display Events – Classic car, motorcycle, snowmobile, tractor shows and other types of show events – ex. Pioneer Days or HayDays. Set up a 72" tall retractable banner to provide your information quickly to the passing crowd.
9. Sporting Events – Sponsor a local team, high school events, or semi-pro and pro events. Hand out a specialty item like a branded stress ball for intense games! In return prospects can fill out a quick form for you to mail them more information.
10. Races – Horse races, monster truck rallys, motocross and tractor pulls. Hey, even lawnmower races. Keep in mind you need to be noticed from a distance at these crowded events, so bring along your 17′ tall blade flag
11. Marathons – Along with 5K run/walks, 10K's, cycling, etc. Many of these are charity runs and have a variety of themes: Color Run, Zombie Run, Mud Man and the list goes on. Make your booth easy to locate at the start and finish of each race with a tent and refreshments to draw in the participants.
12. Carnivals And Amusement Parks – Have games and prizes such as free tickets for carnival rides, bouncy balls or frisbees. These games and free giveaways will capture the attention of children, allowing you time to talk with the parents.
13. Performances – Get familiar with a children's theater, local or professional theater. Attend big show nights, musicals or comedy night. This is a perfect opportunity to hand out magnets or business cards with your contact information and offer for the audience keep!
14. Film And Movie – New releases, special showings and movies that have a large following bring in large crowds on opening night. Let the community know you are the local roofing expert. Go all out and place your ad on the big screen during the previews.
15. Museums, Science Exhibits And Art Galleries – There are a whole range of events put on by museums that include a variety of entertainment. An awesome example is the "Cat Video Film Festival" that was put on by the Walker Art Center in Minneapolis, MN. This event was thought to possibly bring in a few hundred people and turned into a crowd of over 10,000. Check out the fun video and read a little more about the event here: http://www.youtube.com/watch?v=t3D8UqNLz7A
16. Concerts – Music always draws in a large crowd. Some music festivals are a week long and gather crowds in the thousands every day. Fly multiple 2'x3′ flags branded with your logo to lead the crowd your way!
17. Campus Events – Are you near a college town? There's always night life in these towns and many campus events for you to set up a tent to talk to the neighboring college homes. Make sure you stand out with a marquee over your tent and host your own event to invite the whole family!
18. School Events – Homecoming for starters. Students, family and entire towns get involved with these types of events. A unique shaped sticker to hand out with your business card information on the back will be a hit with the younger crowd!
19. Fund Raisers – Sponsor an event or benefit. Set up table tents at each table. If your event is indoors, a 6′ Tear Drop flag is a perfect way to highlight where your team is located to answer questions.
20. Church Events – Normally these are annual events such as bake sales and raffles. Work with the church and donate a free roofing consultation as a raffle prize. Find out if they can mention you are going to be at the event in the church bulletin and also hand out your personalized flyers!
21. Niche Events – Rodeos, Demolition Derbies, etc. Find specialty items that will relate your business to each event. Hand these out or have a contest to give them away as prizes!
22. Health Events – Wellness Fairs. These are typically indoors, so you might consider the 18" mini retractable banner that is ideal for table tops and counters. Engage the crowd with information right at eye level.
Make sure to learn more about the events near you. A search online can do the trick such as using a website like festivalnet.com with over 25,000 events and a zip code radius search option.

Be prepared with all the materials you need to stand out at every event by contacting Lorex (800-792-8812) or at roofingcontractorads.com to learn more about top event marketing strategies and how to order branding merchandise.